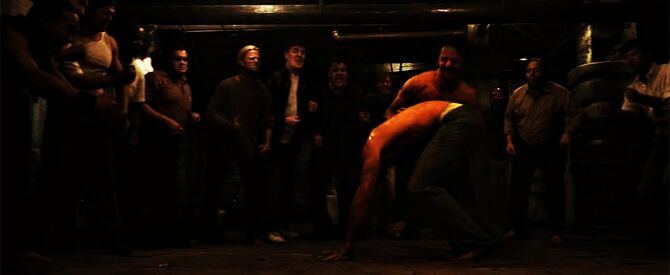 Fight Club
is an underground fighting club for men only. Founded by
Tyler Durden
and
The Narrator
, it is a forum where men of all different social standings from all different professions are able to strip off their labels and fight each other as equals. The Narrator replaces his support group addiction with Fight Club, as he finds it far more therapeutic and genuine...
Read more about the:
---
== Tyler Durden's Words of Wisdom ==
"I see in the fight club the strongest and smartest men who've ever lived. I see all this potential and I see squandering. God damn it, an entire generation pumping gas, waiting tables, slaves with white collars, advertising has us chasing cars and clothes, working jobs we hate so we can buy shit we don't need. We're the middle children of the history man, no purpose or place, we have no Great war, no Great depression, our great war is a spiritual war, our great depression is our lives, we've been all raised by television to believe that one day we'd all be millionaires and movie gods and rock stars, but we won't and we're slowly learning that fact. and we're very very pissed off."

---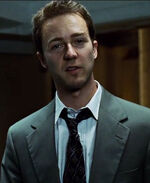 The Narrator–
Both the movie and the book are told from the perspective of the protagonist main character, called
The Narrator
in the movie script. The name of the narrator is never actually revealed, and is often mistakenly cited as being either "Jack" or "Joe." This is due to the narrator's reading of a series of
Reader's Digest
articles in which human organs describe their functions to the reader in the first person...
Read more >
---
---

---
We are currently housing 37 articles, and 64 files. We need YOUR help expanding and adding articles to the wiki!
---
---
If you're new to wikia, please use the above links to get started.
If you already have editing experience, and you have an article relating to Fight Club to contribute, use the box below to create it:
<createbox>width=30</createbox>

---
Just annouced by USA Today, Chuck Palahniuk is publishing Fight Club 2.
"Palahniuk will be on a Fight Club panel with Fincher on Saturday at San Diego Comic-Con 2014, but it was at last year's New York …

XD1
•
As with many of the best films of all time, Fight Club was a box-office underachiever - failing to meet studio expectations. As far as the worldwide theatrical release is concerned, they basically sp…
See more >
---
Refresh
·
Read more >